Bilkent Symphony Orchestra of Ankara, which will host the ICMA Award ceremony and Gala concert on 28 March, 2015, has performed the Ankara premiere of Mahler's 8th Symphony. The performance on 30 April was the closing concert of the 30th Ankara International Music Festival. The Bilkent Symphony, conducted by music director Isin Metin shared the big stage of the Congresium Hall in Ankara with choruses from Poland and Portugal and a distinguished line of soloists, some 400 players and singers in total.
After an extensive rehearsal period throughout April in their beautiful Bilkent Symphony Hall, the orchestra made history by playing the 'Symphony of Thousand' for the first time in Turkey's capital. This gigantic work's Turkey premiere had been played in Istanbul by the Istanbul State Symphony Orchestra in 1995.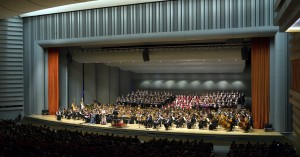 The distinguished soloists in this Ankara premiere were Nancy Weissbach (soprano), Burcu Uyar (soprano), Klara Ek (soprano), Alison Cooke (mezzo-soprano), Isabel Vera (alto), Unusan Kuloglu (tenor), Karsten Mewes (baritone) and Tuncay Kurtoglu (bass). Wroclaw Philharmonic Chorus, Lisbon ESML Chorus and Bilkent Children Choir participated in the performance. The concert brought together many music lovers from distant corners of the country who wished to witness this historical moment. The newly built and acoustically fine Congresium Hall of Ankara with a capacity of 3000 seats was sold out. The performers received a 15 minutes standing ovation. – This news comes from our Turkish Jury member Serhan Bali (Andante Music magazine, Istanbul).